This week, we saw Samsung reveal its IoT security solution, Microsoft go to Germany, warehouses go autonomous and blockchain gain investment.
Several long-term moves in internet of things (IoT) fields emerged this week, with everything from security to structures under revision.
For example, at the moment, the SIM card in your smartphone is the key tangible aspect of your connection to the digital world. Registered to you, it contains your carrier data, providing you with a door to the online universe.
SoftBank is developing an 'embedded SIM' (eSIM) platform, which means that a SIM card can be remotely reprogrammed, never needing to be reinstalled.
The appeal is clear. When selling devices embedded with M2M equipment to markets around the world, the need for dedicated SIMs is a frustrating obstacle in connecting to the respective communication networks of overseas carriers.
Elsewhere, IoT platform provider Asavie is becoming a growing influence within the IoT market, particularly within the area of industrial IoT.
Back in February, the company revealed its Industrial IoT Accelerator Kit, aimed at speeding up IoT adoption in the wider world, on top of global network testing platforms for makers and SMEs.
Now it has its sights set on expanding its influence in the Asia Pacific region, with the opening of a new regional headquarters in Kuala Lumpur, Malaysia.
One of the more interesting developments this week saw an Accenture report into the insurtech industry reveal exactly where businesses are ploughing their investments into: AI and IoT.
But what else did you miss?
Samsung puts safety first
Samsung launched a new product at its Korean event earlier this week, with a router-like tool aimed at increasing the security of users' connected devices.
With the full name of Connect Home Smart Wi-Fi System (a far more digestible Samsung Connect works better), it identifies Samsung devices hooked up to home LAN, as well as other devices that can operate on the company's SmartThings IoT platform.
Samsung Connect then allows users to manage all of these devices in one app, enabling them to control and monitor their entire connected home from one place.
By syncing up all the devices, it, in theory, provides a more secure management system, operated through one dashboard.
Samsung Connect also integrates with the company's smart TVs, providing always-on notifications that can send alerts to users' TVs or phones to enable enhanced security and connectivity.
Microsoft eyes German base
US tech giant Microsoft is looking to focus on the future, sensor-filled world from a new lab in Munich, following similar moves from the likes of Cisco and IBM in recent years. Germany must have something the rest of the world lacks.
Microsoft already has new labs in Redmond (US) and Shenzhen (China), with the company forced to double down on its IoT efforts after rival firms got in early.
Industrial companies have been keen to use technology to improve the manufacturing processes, said Peggy Johnson, Microsoft's executive vice-president of business development, to Bloomberg. "There is a concern of being left behind if one of their competitors can shorten the process."
Microsoft's thinking probably relates to the plethora of industrial giants in Germany, and it is only a matter of time before companies such as Siemens and BMW fully embrace IoT as a way of problem solving, rather than standard, not-entirely-profitable collection.
"It's a work in progress; I'm not going to tell you the industry has solved this," said Vikas Butaney, VP and GM for IoT connectivity at Cisco. "In industry, these customers are very cautious."
Fetch robot emerges
Autonomous warehouses. That's what Fetch seems to be aiming for, with the release of its latest robots, Freight500 and Freight1500.
The devices navigate throughout warehouses using mapping software, carrying loads weighing anything up to 3,300 pounds.
"We're working with one Fortune 500 company that already has Freights deployed, and they're gearing up to do a pilot with us for the two new robots," said Fetch Robotics CEO Melonee Wise to ZDNet.
"They want to be able to have robots in all levels of their warehouses and retail stores so that they can improve delivery times, from order to box."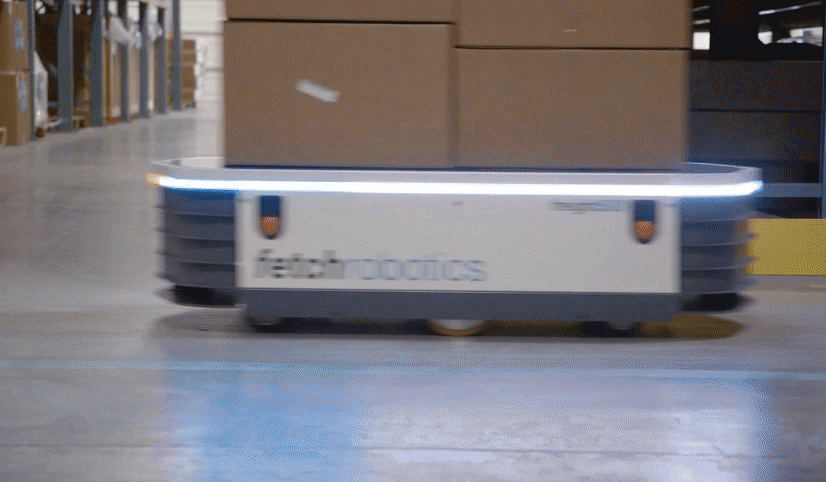 Slock-chain
Slock.it, a company using blockchain to enable anyone to transfer property without a middleman, has secured $2m in seed funding.
The German start-up will use the capital infusion for its Universal Sharing Network (USN) project, which aims to let both companies and individuals easily and securely rent, sell or share any IoT connected object.
Built on Ethereum, USN will provide users with a set of mobile and desktop applications to find, locate, rent and, ultimately, control any object mediated by smart contracts, from anywhere in the world.
"The main advantage of using blockchain technology in this context is a radically simplified user journey," said Stephan Tual, founder and COO of Slock.it.
"Open the app. Find an object nearby. Pay for it. Use it. There is only one key (your smartphone) for everything and no need to register or log in for the service, thanks to a judicious use of security deposits."
Want stories like this and more direct to your inbox? Sign up for Tech Trends, Silicon Republic's weekly digest of need-to-know tech news.