The fourth edition of Uprise brings the start-up festival to Dublin on 20 October, aiming to make new young business more approachable, investable and connected.
Uprise began in Amsterdam, founded by Irishman Paul O'Connell. After a number of events this year, he's bringing it home with Uprise Festival Europe taking over the RDS, Dublin on 20 October.
Built to showcase young companies going for growth, Uprise also features talks, panels and practical workshops from the likes of Microsoft, Google, Facebook, Salesforce, Freelance.com and Seedrs. There will also be an epic Pitch Battle where six start-up teams from Ireland will take on six international start-ups.
Many start-ups from the Amsterdam event, attended by our editor John Kennedy earlier this year, will be returning to meet the Dublin crowds, and there are many more to check out besides. Below are just some that caught our eye – and we recommend you scroll to the end for details on a special offer for Siliconrepublic.com readers.
DeepstreamHub
Providing a platform for developers to create apps, DeepstreamHub is a reaction to the existence of collaborative tools such as Google Docs or Slack.
Building stacks for these real-time apps can prove very complicated and costly, but DeepstreamHub claims its platform can reduce as much of the complication as it does the cost. Its key features include live databases and searches, allowing developers keep up to date with requests on their projects.
The company detailed its technology earlier this year at a Berlin meet-up:
InteriMarket
Targeting interim professionals and recruiters looking to connect and collaborate, InteriMarket is essentially a stripped-down LinkedIn platform.
Professionals join for free (you can log into it via LinkedIn, and Google), with recruiters picking up the bill for scouting out talent.
Ultimately, InteriMarket hosts stripped down CVs, jobs listing and networking opportunities. "Our focus is on connecting small project teams, businesses of up to 10 employees or associates with the right people to support near and long-term projects and assignments," said the company.
Link.fish
One of the simplest, most clever ideas to emerge in recent times is that of Link.fish and its tab-storing software.
The way it works is very straightforward. If you were searching for a new apartment and had a dozen tabs open, rather than jumping between them and your other browsing windows, Link.fish lets you store them all in one very manageable scroll.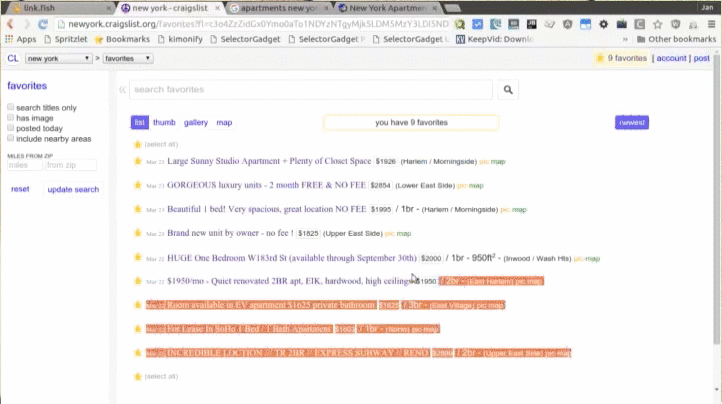 Better still, you can organise each location by price or number of rooms, view them in a grid, or even create a map. The founders claim it works just as well for product purchasing, cars, movies and holidays.
Meebler
Co-founded by Steve Facer in 2014, Dublin-based Meebler was set up with the aim of tackling one of the greatest annoyances of the modern digital age: emails and messages received from companies.
According to the company's business model, someone who registers with Meebler gets access to a platform that manages all of these services, what messages you receive and how you receive them. Businesses can then sign up and use its data analytics to see what is and isn't being read by its users.
MyOctopus
Founded in 2015 by Wawrzyniec 'Larry' Wawro and Sylwester 'Sylwi' Hyzynski, MyOctopus is the latest Irish-based start-up to delve into the world of home hubs.
Much like Nest, MyOctopus is a smart IoT device that is installed in a person's home and is filled with sensors to monitor operations in the home. Most importantly, it will use AI and machine learning to familiarise itself with the homeowner's habits and preferences.
Examples of some of the things it can do include the ability to change music or the lights as you move from room to room.
The Pink Pony
A social enterprise start-up based in London, The Pink Pony has empowerment at its heart, using play and creative making to inspire people, communities and organisations to become more active, collaborative and creative.
Founded by Marie James and Ana Laya in 2014, the start-up runs 'playgrounds', designed to build relationships between organisations and communities – and build something creative – by encouraging members of each to play together.
The approach is centred on the concept that play "is not exclusively for kids", and is instead a fun way for people of all ages to connect, be creative and think outside the box.
PlayTank
Previously described as Slack for idea creation, PlayTank is an Irish social collaboration platform led by CEO Toby Farren.
Farren found that, within large organisations, it can be extremely difficult to involve all relevant stakeholders in the decision-making process. To that end, PlayTank allows large groups to come together and design potential new innovations – be they products, processes or business models – bypassing the political and bureaucratic barriers inherent in larger enterprises.
As recent as this week, PlayTank launched its first pilot programme, with plans to target 420 Irish companies of more than 500 employees across Ireland.
Skiwo
Norwegian start-up Skiwo is the brainchild of Gautam Chandna (CEO), Jørn Mikalsen (CMO) and Rodney Boot (CDO).
Skiwo provides a global network for interpretation services, connecting interpreters with businesses, governments and individuals. Its open digital solution helps manage interpretation services and host video or phone meetings in a browser on any device.
Anyone with interpretation skills can sign up, validate their skills by uploading certifications, and get access to interpretation jobs worldwide. Government organisations and businesses can get direct access to a global pool of interpreters, sorted by language, certification levels and ratings.
Smarter About
Dublin start-up Smarter About helps companies survive in the 21st-century digital economy by helping them to get their business online. It does so by creating websites, cloud solutions and providing consultancy.
The team creates mobile-friendly, up-to-date websites that are equipped with the relevant social media tools. Services include mobile-friendly web design, social media, search engine optimisation, infrastructure to the cloud, and support services. The company also has expertise in WordPress web development and Drupal web design.
Smith & Sinclair
It was while running a series of dating nights that Melanie Goldmith and Emile Bernard created a luxury sweet with a high alcohol content, which got people talking and caused a stir. Thus, Smith & Sinclair was born.
Today, Smith & Sinclair's pastilles retail in Harrods, Harvey Nichols, Selfridges and many more. The company has also created signature edible cocktails for over 32 alcohol brands, including Langley's gin and Beluga vodka, and have worked on several international marketing campaigns, including Imbibe Live and Schuh.
Solo
Italian start-up Solo aims to help merchants adopt POS systems without having to navigate the "bureaucratic and economic limits" imposed by banks.
Founded by a team of developers and professionals who met at an incubator programme, Solo is a virtual POS that any merchant within the eurozone can use to accept credit and debit card payments without having to swipe a card through a physical machine.
It's simple: it requires no app downloading, just a dedicated link and any browser, accessed via any device. It also saves money for retailers, with none of the fixed costs or monthly fees of traditional POS systems.
TourSnapp
Start-up TourSnapp is the creator of a cultural tourism app with an interesting business model: it is distributed to tourism offices, which then act as the point of sale for the end user, with all revenue shared between the tourism office and TourSnapp itself.
TourSnapp was founded in 2015 with the sole purpose of developing an app that helps cultural tourists avoid missing anything in the cities they visit.
The app has two main offerings. First, it utilises a sonar-like feature to locate nearby cultural destinations. Second, it draws on the principles of augmented reality. When a user points their phone's camera at a site featured on the app, text will appear to provide more information about it.
Uprise is offering 20 free general admission tickets to the first 20 Silicon Republic readers who insert the code 'siliconuprise' here.
Uprise has a limited number of bootstrapping stands for early-stage companies. If you'd like the chance to exhibit at Uprise for a steal, email izaac@uprisefestival.co by Monday 10 October.
Want stories like this and more direct to your inbox? Sign up for Tech Trends, Silicon Republic's weekly digest of need-to-know tech news.
Updated, 2.36pm, 7 October 2016: This article was updated to clarify TourSnapp's business model, which was originally misstated.